Our PreKindergarten (2½-, 3-, & 4-Year Olds)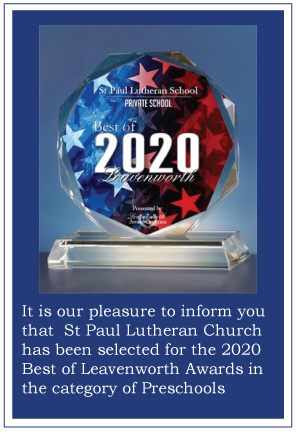 Our PreKindergarten (2½-, 3-, & 4-Year Olds)
St. Paul prekindergarten program is designed to nurture children spiritually and academically at their developmentally appropriate level. At St. Paul we focus on the child's social and emotional growth as well as his or her physical and mental development, thus meeting the needs of the whole child. We believe that every child who enters our program is a unique and special gift from God, and that it is our privilege and responsibility to help him know that he is loved and cared for by our Lord Jesus Christ. Along with being state licensed, we follow the Kansas State Readiness Standards.
Beginning in 2020, PreKindergarteners may attend 2-day, 3-day, and 5-day programs, with seasonal field trips. Our 2½-year olds do NOT need to be potty trained, but do need to be 2 by the end of February in the year they begin class at St. Paul.  We feature a spacious playground area for all age children. We also offer an extended-childcare program both before and after school. Our extended care opens at 6:30 am and students may stay until 5:30 pm.  We encourage and welcome parents to be involved in all aspects of our program.
At St. Paul Lutheran PreKindergarten, the curriculum is the basis for developing an effective, developmentally appropriate prekindergarten program, which includes teaching in all areas vital to the young child's growth. Our program includes a Biblically integrated early-childhood curriculum from Concordia, including Bible stories and scripture. To encourage and prepare our students for the future demands of school, we introduce academics focusing on pre-reading and writing skills, mathematics fundamentals, and sight-word recognition. Enrichment activities such as weekly chapel, music and movement, field trips, and seasonal activities that change yearly are also vital to our program's success.
PreKindergarten students have the opportunity to explore their environment through diverse and enriching activities. Chapel:  In our Christian PreKindergarten, children attend chapel to experience what it is like to praise and worship God as a group.  Educational Field Trip: We visit the Pumpkin Patch each school year. Additional Events:  PreKindergarten also takes part in all school special events including Movie Night, Annual School Open House, Fall Festival, End of the Year Picnic, and more. To round off the year PreKindergarten classes take part in a variety of the monthly events: Thanksgiving Feast, Christmas Celebration, Valentine's Day Party, St. Patrick's Day,  Easter Celebration, Western Day, Hunt for Clifford the Big Red Dog, Worm Day, Rainbow Olympics, and more.
Entrance Guidelines
We require that students entering our PreKindergarten classes be either three-years old by August 31st for our PreKindergarten 3 class, or four-years old by August 31st for our PreKindergarten 4 class. Students entering our PreKindergarten 3 & PreKindergarten 4 class must be potty trained. Students entering our 2½ PreKindergarten class need to be 2 by the end of February, so they will be 2½ by August 31st. Tuition payments run September through May using the FACTS Program  for current tuition and fee rates please call –  (913) 682-5553 or  (913) 775-0000, or email –  admissions@splcs.org.