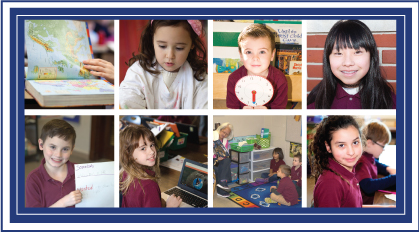 March 2021
Good morning,
We have Ivy, Haakon, and Neema enrolled for next school year, 2021-2022.  We would like to add Aksel Wiltse, if there will be room in the 8th grade class.  He loves history and art. He struggles with in some subjects, but I'm sure his teachers will help him.
That's all of our kids. Ivy is thriving at Saint Paul.  It's the best decision we have made!  We've been here since 2014 and I am kicking myself for not enrolling the kids the first year we were here in Leavenworth! St. Paul has truly been a blessing and I believe has changed Ivy's life.  She is blossoming and loves school again.  Thank you for all that you have done and continue to do for our sweet beautiful daughter. Your teachers and staff genuinely care about the kids.  Ivy sees that.  Kids know when someone truly cares and is sincere.  We appreciate all that you do!
side note:  They are all enrolled for 2021-2022
April 2021
Good morning,
St. Paul Lutheran School saved my daughter and me. Two years ago we were checking out new schools. After the initial interview at St. Paul, we talked about the next school. My daughter tells me, "I want to go to that school that we just left."  They greeted her with open arms and smiles, and this continues everyday. And they also notice when it not a good day; they are willing to talk about what is going on.  The entire staff is wonderful. They treat us as their family, and are willing to help or just talk. My daughter has made a complete turn around from 2 years ago. Love the smaller classroom size. The kids don't get overwhelmed. They involve all students and grade levels in participation. I'm able to go to work without the fear of school calling me with bad news. It was the best thing we did.  I wish I didn't work full time, so I could volunteer.
March 2021
It was the best decision to send our first grader to St. Paul. Children know when they are loved and supported. There has been such a stark contrast in this year to last year- from coming home in tears almost daily to smiling and confident. She is reading well and learning so much. We are so thankful for Mrs. Martini! We are so grateful to St Paul for giving our daughter a love for school and a knowledge of God's love for her.
March 2021
St. Paul's has been a really neat experience. Our son spent the year in Mrs. Wells Pre-3 class and has shown so much growth in academic, social, emotional, and spiritual development. What he missed out on from not attending Sunday School due to the Pandemic, he has absolutely gotten from St. Paul's. He lights up when it's time to go to school and asks to go on non-school days. Between his teachers, the front office, to extended care, all the way up to the Principal we've had positive interactions, open channels for communication, and space for questions and concerns. It's too bad we are a temporary party in Leavenworth because St. Paul's has set a high bar for any other school our son will attend from here on out.
March 2021
Saint Paul has been the guiding light needed for my two children. Knowing they are truly cared about and loved is very important to me. My kids have blossomed and grown into amazing young people. The Christ-centered education is beyond fantastic. My children have been able to excel academically due to the small class size.
My kindergarten student had a wonderful experience at St. Paul Lutheran.  Academically she grew tremendously in math, reading, and language. The wonderful, kind, and caring environment is amazing. The on-cite daycare is a huge help for working parents.  I highly recommend attending St. Paul Lutheran.
April 2021
My daughter started Kindergarten this year and I am extremely happy with St. Paul. My daughter loves her teacher and looks forward to school every morning. St. Paul has become our extended family and is an asset to our community. The school has a strong academic program and the teachers work with their students to help them achieve their greatest potential. From the teachers, to the principal to other staff members you can tell each child is important to them. You can sense that they take care of each other and that everyone is striving for the same goal…to provide the best environment for their students to learn and grow.  The ratio of children to teachers is small and allows for focused attention on each child. Aside from the school curriculum, the children are encouraged to follow everyday routines, taught to be respectful, helpful, kind and caring towards others. They are learning the fundamentals that will shape them for the future. I highly recommend St. Paul Lutheran School!
Ms. Lewis
My kids attended St. Paul Lutheran School for two school years. It was such a wonderful experience. I highly recommend their educational program. They make the educational experience enjoyable while still providing structure and boundaries. They instill great Christian values in their students. The staff is friendly, caring and goes above and beyond. They treated my children as one of their own. My son and daughter have so many fond memories from their time at St. Paul Lutheran School.
We chose St. Paul Lutheran School for our three children for a number of reasons.  The first being the Christian environment and values.  We feel it is very important that our children be not only able, but also encouraged, to share and grow in their faith.  The second reason we chose St. Paul is the excellent academic opportunities provided by phenomenally caring and competent faculty, staff, and volunteers.  The third reason we chose St. Paul Lutheran is the church and school are both very involved in community outreach and service.  Compassion and citizenship are two things that are often overlooked in public school settings.
Two of our children are still attending St. Paul Lutheran, in 6th and 8th grade, but our oldest son graduated 8th grade and moved on to high school two years ago.  He was well-prepared for the academic and moral challenges of public school.  He has maintained a 4.0 GPA and has repeatedly demonstrated that his moral compass is on-point.  We are very grateful for the opportunity to send our children to a loving, family-oriented Christian school.
Two of my grandchildren attend St. Paul Lutheran School.  The enviornment is very positive – I like the way the teachers address the children, the time teachers spend working individually with students and the positive attitude my grandchildren have towards school.  The friendships and camaraderie are built because of the way the classrooms are structured.
I like St. Paul School because it is smaller. There are less students in a class so your student has more "one on one" with their teacher. 
The teachers at St. Paul are more understanding and change the room and way they teach so you can understand better. I learn better and quicker here than public school. Teachers spend more time correcting behavior in public schools. Teachers at St. Paul listen to what you need and that helps me understand. They will adjust learning so you understand. In a large school teachers don't have time to help. They spend more time managing students at the public school. If there is something bothering me the teacher is willing to make changes because there are less students.
I know my teacher cares about me because he listens to me and understands. If you fail at something he lets you rework it cause failure is not an option.
I love my school because some friends respect me, and my teacher is nice to me.  It's called St. Paul Lutheran School, which means I'm a Christian.  I love learning about Jesus.  If you wonder about Jesus, I'm happy to tell you about him.  If you have a king other than the Holy Spirit, Jesus, and God, then you're wrong.  I know that sounds crazy, but it is true.  Hope you believe in God.
April 2021
St. Paul has been a great school for our children.   We have experienced preschool, lower elementary, upper elementary, and now middle school age classes.  In all scenarios we have had kind and caring teachers who accommodate the various learning styles and academic levels of our children.
 We are most thankful to provide a Christ-centered education for our children.   We can be certain that their curriculum aligns with our values and beliefs.  We also appreciate that prayer and praise are an integral part of their school days.
I recommend St. Paul School to anyone who is looking for a quality, Christian education for their children.  You will certainly be blessed by this wonderful school!
Being a military family, we have moved around a lot; therefore our kids have changed schools a lot. From the moment they started at St. Paul's, our kids were welcomed and felt right at home. All 4 of them had teachers who encouraged and challenged them to do their best. We have loved that St. Paul's is able to provide instruction at whatever level they are at (we have a couple that struggle in certain subjects). In the areas they are weak, the school was very flexible, and the classroom size allowed the teachers to really tailor the curriculum to help our kids achieve their highest potential. We are most thankful, however, for St. Paul's commitment to incorporating Biblical instruction, character development, and Christian values into the classroom on a daily basis.
March 2021
Finding St. Paul has been such a blessing too our family. Our son is 2.5 and has been attending the PK2 class for just over a month now and it's been so neat to see him so excited about school and new friends. The teachers and staff are so incredibly friendly, I would recommend St. Paul's to anyone looking for a great school environment for their child.
April 2021
Our daughters blossomed in only four short months at St. Paul's. From orientation through the last day of the year, the teachers took a personal interest in learning about our children so that they could teach them most effectively. As a result, their growth has been astounding. My daughters are more confident and more capable students than I could have imagined the day they started at St. Paul's. We are grateful to have found such a place for our family.
Parents of Kindergarten and PK2's class
St. Paul has been the best choice for our child to ease into a school type setting, as he had never been enrolled in a daycare or other school in the past.  Our child is currently enrolled in Pre-K3 with Mrs. Wells and she is absolutely amazing and very patient with him.  He comes home retelling stories and singing songs he learned from school, and can now write his name.  We highly recommend St. Paul and truly appreciate the friendly social environment the school provides.
I believe parents should send their children to St. Paul because the people here are wonderful.  I love my teachers and after-school club leaders.  I love my friends, too.  It is a Christian school, and we are free to share our faith and also to ask questions about it.  The classes are small, so we don't have to fight for the teachers' attention.  We go on lots of cool field trips and also have fun assemblies and other activities like dances and festivals.  I also really like it when we get to spend time helping the preschoolers and kindergarteners.  I really love being a "big buddy".
Why I like St. Paul Lutheran School and Church. 
There are several reasons why I like attending St. Paul Lutheran School.  I like going to St. Paul because the people are understanding. You will fit in with children of all ages.  I remember when I first came to St. Paul, I was very shy and scared people would not like me. But after a couple days, I fit in.  Also, the school makes you feel very welcome. I love this school because my family tried many different schools, but people did not like me very much. So, when my family enrolled me at St. Paul, I loved it. Finally, I said, "WOW" because they were teaching about God. At my old school we could not even say God.  I also have been a member of St. Paul Church for as long as I can remember – we have children's church and also a weekly Bible study.
My favorite things about this school are: teachers have time to help with subjects you struggle in because we have smaller classes, students and parents are more comfortable with expressing how they feel about God and how much faith we have in Him, and finally the school volunteers for special charities to help the homeless. 
I like this school because the teachers are nice and try their best to make learning interesting.  Teachers don't get upset when you ask for help.  If you have a problem with something they will try their best to help you.  This is the best school I have had yet, because the student ratio is 8 to 1 which means the students get more 1 on 1 time.  I like how the teachers here can have fun and at the same time teach productively.
St. Paul Lutheran School has provided an opportunity for my child to excel or improve in academics, social skills, and faith. Great teachers and staff provide individual attention and help to each student.
The teachers and staff have encouraged the students to accept differences in each other, to be accountable for their actions, to accept constructive criticism, and to deal with peer pressure and each other. They develop life skills which will be needed in the future.
Christian values and beliefs are taught or stressed in and out of the classroom.  Kindness, respect, forgiveness, and caring are among the virtues your child will learn and use in the future.  These intangible benefits and prayer may not be afforded at other schools.
St. Paul Lutheran School provides your child with a sense of belonging. Not only are they part of a community, but part of a "family" ……St. Paul Lutheran School "Family".